Description
Multifunctional car storage box with big space: top layer is for phone, sunglasses, pen, 2 layers holder for beverages, bottom layers for small stuff such as keys, coins, etc.
360°Rotation Layer: 360° rotation for top 3 layers increase more space to hold drinks and easy to save.
Rubber cup body cover, designed to keep your drinks stable during driving on rough road.
Sweet erect rack design on the top, keep your phone or glasses stuck inside, also include 2 holes for putting your pens, perfect fit pen sizes.
It is universal to most cars, save spaces and keep your car organized always.
Type

 

Multifunctional Car Storage Box
Size

 

Whole size: 8.9*19cm/3.5*7.5″(D*H)
Bottom diameter: 6.7cm/2.6″
1*Package Box
This handy car gadget has 4 different retractable levels to it and has enough room for all of your stuff, not just your drinks. The top layer is for your phone, sunglasses, pens etc, the two next layers are for your angled drinks like fast food cups, thermoses, and mugs. The bottom layer is not only another drink holder, but below that is extra storage for small items like lip balm, keys, or coins (which there's even a coin-slot for).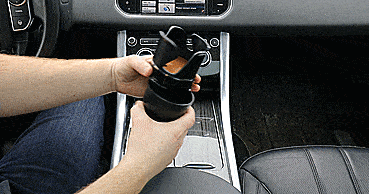 Now your cup holder is a powerful storage area that will be your command center while driving. I personally require at least 3 drinks to drive more than 30 minutes anywhere. But now there's a perfect spot to hold my phone for easy navigation viewing, along with handy slot for my sunglasses while I'm not using them.